The COVID-19 pandemic began a ripple effect in our real-world market. Suddenly, professionals all work from home. They hold meetings from their kitchen tables, air news from living rooms. Companies are funcitoning in unfounded ways.
When the market shifted, professionals worldwide learned what is reliable in their industry and what isn't. Research from the pandemic tells us that community means nothing without flexibility. 
A company's team needs great communication strategies for your client's sake. Time management in a team is the number one deterrent for breaks in communication. If you want your client to feel cared for, you have to make them feel heard first.  
Why is forming a work community from your home office essential to creating a safe space for your clients?
Through empirical data gathered in their book focused on corporate processes, researchers in Finland were able to examine the different business structures that may benefit from a community.
After interviews, researchers found that service firm performance is strongly based on the skills of their employees and a high level of customization and complexity. When customization is required, the person-to-person interactions are essential in problem-solving with clients. 
All of the rapport is in the good name of creating trustworthiness.
In their empirical exploration, the researchers found that trustworthiness allows the professional to proficiently advise the customer. These relationships do not develop overnight. They are high risk–the client must depend on the provider.
The risk comes when employees keep a small circle. A narrow internal focus leaves little room for collaboration. The consequence is often an insufficient pool of knowledge, tools, or organization.
The involvement of each employee shapes communication and service for clients. 
Small businesses are most likely to suffer from a smaller information pool. These valuable businesses are most at risk. A study done by The American Enterprise Institute notes that in 2020 small business revenues couldn't recover. Despite raising pay and hiring more employees, they couldn't fully recover.
Customers can't trust a company struggling to stay together.
The problem is lack of involved communication. 
Maybe a company has great communication with clients, but their team is not sharing resources adequately.
Then, they can't get people to line up a time to meet.
There's no rapport between employees.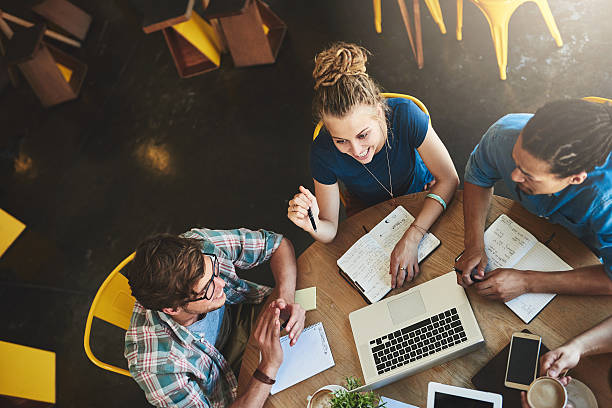 When employees are enabled to share stressors, they are able to collaborate on projects and share the workload naturally. Sharing the workload spreads like great conversation.
Developing strong relationships with coworkers and clients requires a daily, weekly, monthly meeting. Meet once a week with coworkers to share project goals. Meet twice a month to update and plan with a client.
This keeps everyone focused on their shared goals.
A great calendar app can save a team a lot of time scheduling with each other. Open access for every team member's email information and title is key. 
A manager is an organizer–of services, products, employees …
and they all have a place.
Find out where your team fits in place, and arrange them there.
---
Research Cited:
Natti, Satu, and Pauliina Ulkuniemi. "Embeddedness of Individual Expertise in Professional Business Service Relationships." Wiley Online Library, Knowledge and Process Management: The Journal of Corporate Transformation, 20 Jan. 2022, https://onlinelibrary.wiley.com/doi/full/10.1002/kpm.1702.
Strain, Michael R. Covid-19's Impact on Small Business: Deep, Sudden, and Lingering. American Enterprise Institute, 2020. JSTOR, http://www.jstor.org/stable/resrep24602.